Infertility is when your uterus, ovaries, or fallopian tubes cannot produce or hold a full pregnancy. It also includes not being able to conceive full term.
Endometriosis can interfere with women's infertility; your lining growing on the outside of your uterus. You could have structural problems, such as where something is wrong with your ovaries, its placement, etc. Something could also be wrong with your uterus, such as the structure of your body, age, and overweight or underweight.
Being able to conceive is something people don't think of as not being easy. People believe that everyone can conceive, but your body must be very healthy to carry a baby to full term. Women either cannot get pregnant or can't carry their baby to full term is pretty often. You need to be healthy. You need to be taking your iron pills and making sure your blood count (hemoglobin) is good. You need to be taking vitamins and prenatals. Even if you weren't taking prenatals, some women have to take regular vitamins to ensure that their bodies are healthy. If you're not eating, if you're underweight, and even if you're overweight, it can cause problems.
Abnormal periods are signs of potential issues to come if trying to conceive. To fix abnormal periods, you can try Yoni steaming or womb wellness massages if you have fibroids, etc. Yoni steaming helps all the blood come out of the lining of the uterus, and that keeps and promotes a healthy space for growth to happen. Get womb massages to make sure your uterus feels good; you don't want your uterus to feel too tight. Hormonal problems can prevent ovulation as well. Overall, any woman trying to conceive should be focused on her health first. Ensure that you're drinking water, eating fruits, and having an overall healthy diet. Yoni steaming and not having too much rough sex is also good. Getting those Well-Woman's annual checks done with your OBGYN is very important. Your OBGYN should basically be your best friend. When you get your pap smear done and talk to your gynecologist (OBYGN), they'll be able to tell you how healthy and how fertile you are by giving you a pelvic exam, ultrasound, testing your blood and urine, etc. Stress is definitely a factor that can cause you to be infertile. Working out can 110% make you less stressed, and it'll be easier for you to be fertile as well.
As a doula, I provide prenatal, postpartum, and labor and birth services. I provide emotional and mental support. I prepare moms for birth. And if I am there with them through labor, I am coaching them through labor with different techniques and activities that we have done in our prior meetings. Regarding my prenatal services, I was featured in Essence magazine for my infamous kinesiology wrapping, which is a wrap that I do for women's bellies and backs. The kinesiology wrapping helps support the back regarding pain and helps alleviate pressure and stress on the belly. In my spa and wellness center, The Flourished Spa & Wellness Center, we have our induction massages, prenatal massages, prenatal yoga, prenatal fitness, and postpartum fitness. With labor and birth, I deliver locally with midwives in Miami, Florida. I'm also looking to go to school to be a midwife. But as a doula, I'm here to provide information, making sure women know what they're getting themselves into wanting to go into a natural birth, or even if they decide to give birth in a hospital. I help coach them through the labor process because it could be excruciating. I support throughout the postpartum care process as well. After birth, I do a Haitian bath called "Bain." The bath contains a lot of herbs that you boil to help heal and get all the excess blood out. But depending on if they had a C-section or natural birth, it's done about three weeks after delivery.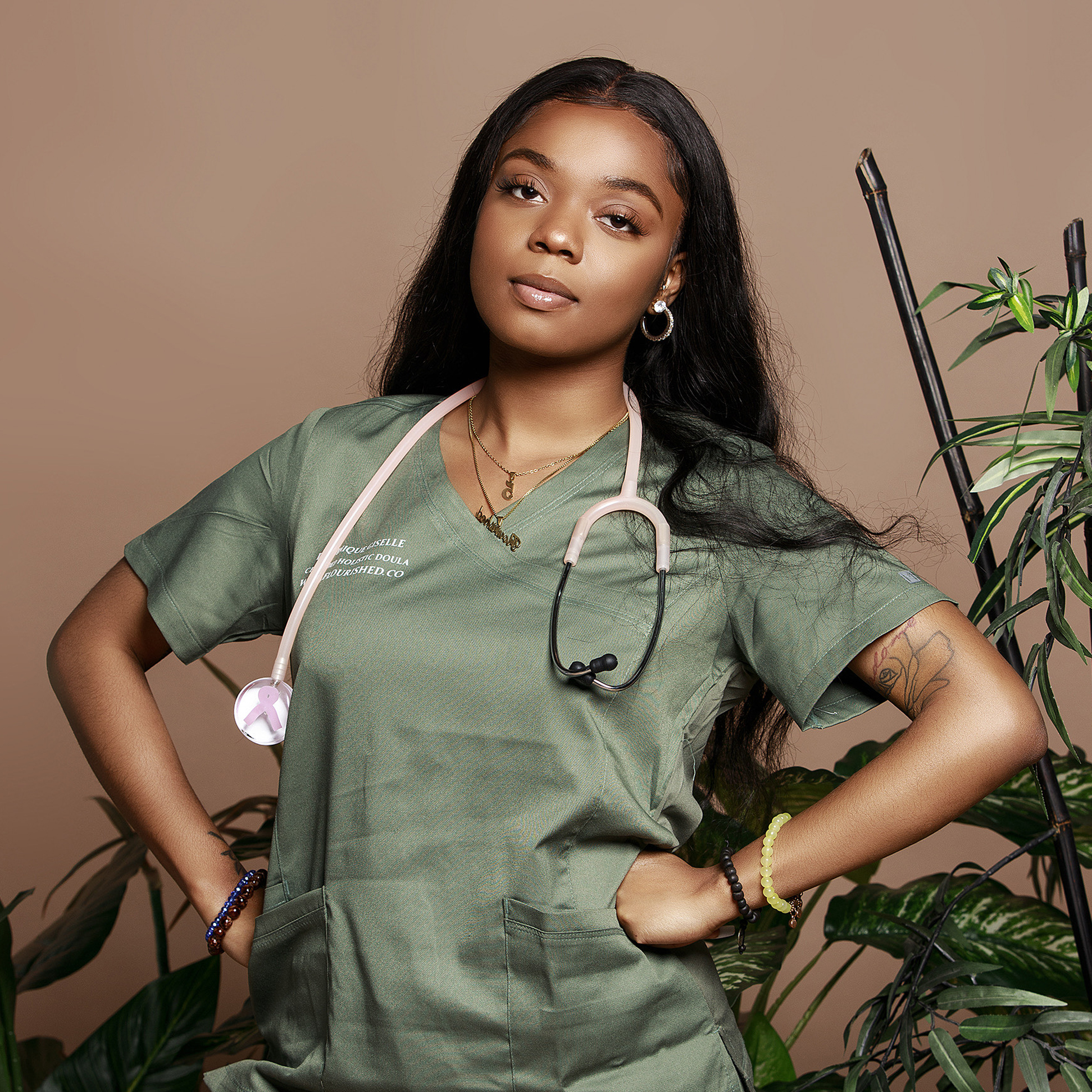 Domo The Doula is a young girl from North Miami who is a local shop owner + Holistic Doula. She hosts a series of different events, moon circles, and healing meditations for her community. Her main focuses are women empowerment, holistic healing, and spiritual development. She hand makes soap, Yoni products + more.